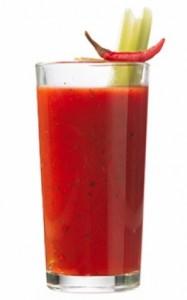 Fresh lime juice
Celery salt
½ tsp Worcestershire sauce
¼ tsp Tabasco sauce
Juice of ¼ fresh lime
Clamato juice
Celery stalk to garnish
Rim glass with lime and celery salt. Fill with ice and add Worcestershire, Tabasco, and lime juice. Top with Clamato, stir, and garnish with crisp celery stick. Junior approves!
---